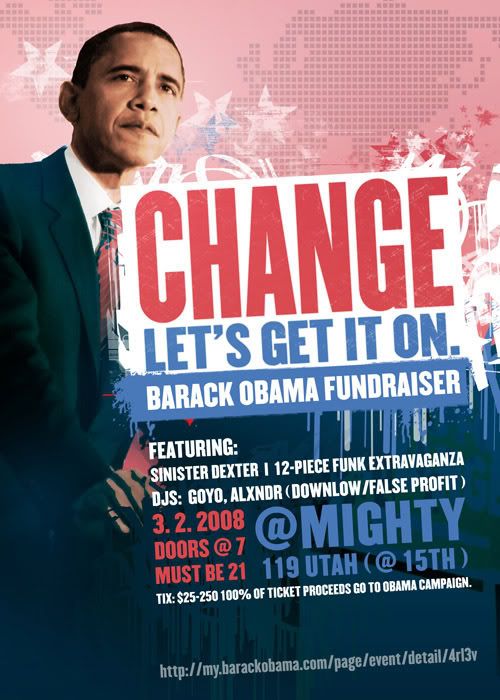 Come out Sunday, March 2nd, as we march forth to March 4th. One million strong.
It's a Barack Obama Fundraiser at Mighty...
With:
Sinister Dexter, a 12-piece funk extravaganza
DJs Alxndr (DownLow/False Profit)
and Goyo
Special guest author Ayelet Waldman ("Daughter's Keeper" and "Love and Other Impossible Pursuits" - wife of Michael Chabon - classmate of Barack's at Harvard Law School) will make a guest appearance.
Woop woop!
Doors at 7pm.
You must be 21.
Ticket donation is
a minimum of $25/person.
Please give as much as you're able to (federal limit is $2,300). 100% of your donation will go to the Obama campaign. Give what you feel is the right investment in the future of our country. And, even if you can't come, feel free to pass it on and make a gift to the campaign anyway!
**You MUST RSVP for the event here:**
http://my.barackobama.com/page/event/detail/4rl3v
Two days after we party at Mighty, Texas and Ohio will be voting in a crucial primary that will help decide the fate of this election.
It's a historic time. It's a time when nearly one million people have already dug into their pockets to invest in their future -- to invest in a candidate who does not accept money from political action committees or lobbyists. A candidate who inspires hope. Let's help the campaign reach the milestone of one million donors by March 4th. The time is now.
Yes. We. Can! Are you fired up?!?
We'll see you there! Pass it on!
Yoav S., Shira Kates, Maya Baratz, Steve Sommers, Freida Ravasco, Amy Lit